INTERNATIONAL CONFERENCE ON
"Trends in Multidisciplinary Business and Economic Research"  (TMBER- 2014)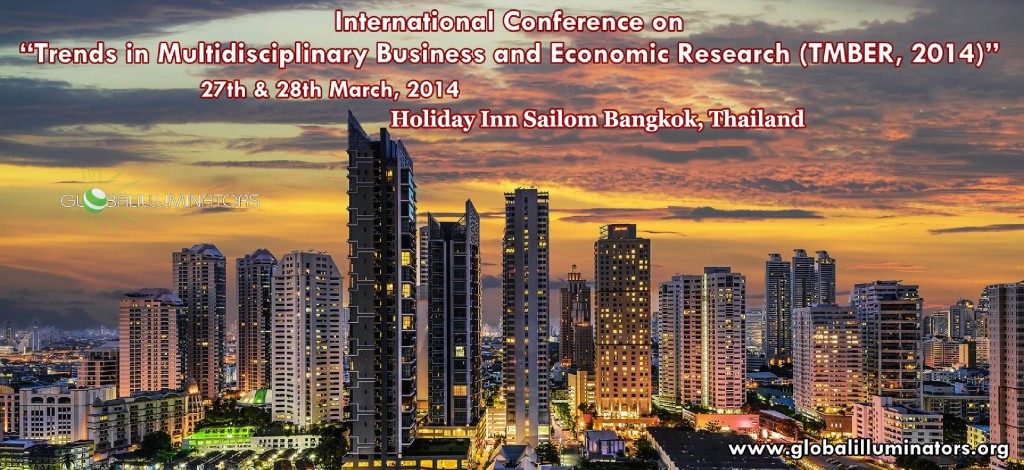 TMBER2014 Bangkok Conference Program
Date: March 27-28, 2014
Venue: Holiday Inn Bangkok Silom,  Thailand
Proceeding Publication ISBN: 978-969-9948-00-8
Submit Manuscript to: tmber2014@globalilluminators.org    
Abstract Submission Date:   February 28,    2014 (Finished)
Full Paper Submission Date:  March 20,    2014 (Extended Deadline Available)
Early Bird Discount Date:     February 15,    2014

Notification of Acceptance/ Rejection:  Within two weeks of receiving the paper
Conference Main Theme
"Facilitating   collaboration among business, economics and multidisciplinary fields of research for better service of humanity"
All submitted abstracts/ papers / posters will go through a blind peer review process and accepted manuscripts will be published in ISBN:  978-969-9948-00-8 conference proceedings. Conference proceeding will be submitted to ISI Thomson Reuters Web of Science for consideration and indexation.
Selected conference papers will be published in special /regular issue of ISI/Scopus indexed journals associated with this conference. Associated journals will allocate a special / regular issue for papers submitted to this conference.
Invitation for Reviewers & Session Chairs in all fields
Voluntary participation as a reviewer and session chair will be acknowledged through a certificate by Global Illuminators Training & Development Wing.